The One Feature No One is Talking About in Madden 18 – Coach Adjustments.
From Shopmaster
You know the situation ….. we see it all the time …. it's the 4th quarter …. your opponent has the ball and the clock is ticking.  A stop doesn't help; you need the ball back and unfortunately the other 10 defensive guys on the field don't seem to know that. In previous Madden games there was no way to tell your team how urgent the situation was ….. all that changes in Madden NFL 18 with the new feature Coach Adjustments.
The new "Coach Adjustment" feature in Madden 18 will not only allow you to relay to your team that you need the ball back, but will put you in good situations to relay to the other 10 guys on the field exactly what you want them to do.  Best of all they are right there on the play calling screen, so no need to pause the game to change them.
Here is a breakdown of all the Coaching Adjustments you can do in Madden NFL 18 on both offense and defense. There are Pros and Cons to almost every adjustment so choose the right situations to use these.  I was able to test some out at EA Play but wanted just a little more sample size before I say whether these adjustments are effective or not.
OFFENSE
Ball Carrier –
Balanced – Ball Carrier runs based on normal gameplay settings
Conservative
Pro – Protects The Ball
Pro – Decrease Fumble Chances
Con – Decrease Break Tackles
Aggressive
Pro – Higher Chance of Triggering Broken Tackles
Con – Increase Fumble Changes  
Blocking –
Balanced – Blocking based on normal gameplay settings
Conservative
Pro – Decrease Chance of Holding Penalty
Con – Holds Blocks Less for Run and Pass
Aggressive
Pro – Holds Blocks Longer
Con – Increases Chances of Holding Penalty  
Deep Pass Catching –
Balanced – Deep Pass Catching based on normal gameplay settings
Conservative
Decrease Run After Catch Opportunities
Aggressive
Always Trigger AI RAC attempts
Increase RAC chances  
Intermediate Pass Catching –
Balanced – Intermediate Pass Catching based on normal gameplay settings
Conservative
Pro – AI receivers will attempt a possession catch
Con – Decrease run after catch
Aggressive
Pro – AI receivers will attempt a RAC or Aggressive Catch
Con – Increase chance of ball being swatted  
DEFENSE  
Toggle Auto Flip Defensive Play Call (On/Off)  
Ball in the Air Defense
Balanced – AI will play based on their ball in the air trait
Swat Ball – AI will attempt to swat in two man catch situations
Play Ball – AI will play the ball in two man catch animations
Play Receiver – AI will play the receiver in two man catch animations  
Cornerback Matchups
Balanced – Matchup based on normal gameplay settings
By Overall – Highest Rated cornerback will matchup vs. highest rated receiver
By Speed – Fastest cornerback will matchup vs. fastest receiver
By Height – Tallest cornerback will matchup vs. tallest receiver
By Route Running – Highest rated man coverage cornerback will matchup vs. highest rated route runner
By Depth Chart – Matchup based on cornerback depth chart position vs. receiver overall rating  
Option Defense
Balanced – Plays option based on normal gameplay settings
Conservative
Pro – QB Left Open on the Option
Con – Focused on Dive and Pitch
Aggressive
Pro – Focused on Dive and Pitch
Con – QB Left Open on the Option  
Pass Rush
Balanced – Pass Rush plays based on normal gameplay settings
Conservative
Pro – Outside Rushers QB Contain
Pro – AI Defensive Lineman will look to swat
Con – No Jump Snaps
Con – More Time in the Pocket
Aggressive
Pro – AI Pass Rushers will attempt to Jump Snap
Con – Higher Chance of Offsides Penalty vs. hard count  
Strip Ball
Balanced – Strip Ball based on normal gameplay settings
Conservative
Pro – Lower Break Tackles
Con – AI will not attempt to strip ball
Aggressive
Pro – Higher Chance for AI to attempt a strip for a higher fumble chance
Con – Higher chance of broken tackle and facemask penalty  
Tackling
Balanced – Tackling based on normal gameplay settings
Conservative
Pro – AI Defenders will tackle conservative
Con – Increase chances of allowing yards after contact
Aggressive
Pro – AI Defenders will attempt Hitstick tackles for higher fumble chances
Con – Higher chances of missed tackles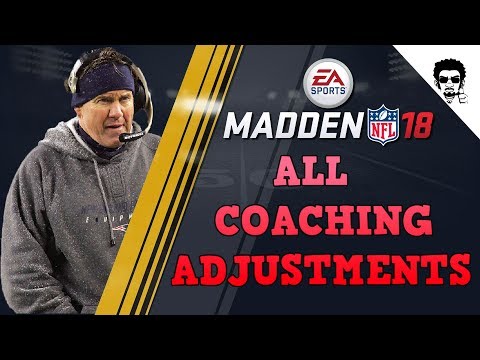 https://www.youtube.com/watch?v=J3FqxINUcXw
http://shopmaster.tv/2017/06/20/the-one-feature-no-one-is-talking-about-in-madden-18-coach-adjustments/
Post edited by NatureBoy2323 on