The SPD Rating and What it Means to You - Video
Tosstamer1, myself, and others were engaged in a discussion about things that need to be changed in Madden when the conversation turned toward SPD and route running. There was a question about how an 87 SPD LB could keep up with a 97 SPD receiver.
But how much faster is a 97 than an 87? None of us knew... So I promised to make a video to answer that question. Here it is: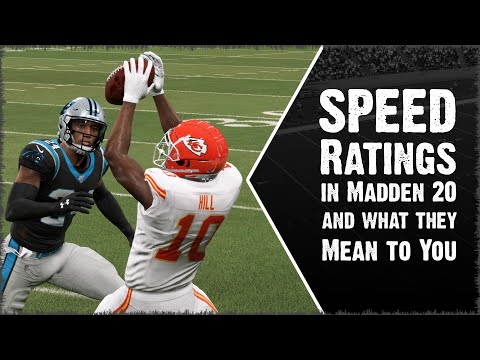 https://www.youtube.com/watch?v=2Xo3aiaOdTA
If you don't have 10 minutes to watch the video...
10 SPD point difference = approximately 3.5 yards of separation after 40 yards. That's not much. Most of us wouldn't throw that pass.
20 SPD point difference = approximately 7 yards of separation after 40 yards. Most of us would throw this pass.
The problem is, if you throw the pass once the receiver has run far enough to get this type of separation, you will seriously underthrow the ball; and an under thrown ball lets the slower defender get back into the play.
IMO, The only way to make it work is to read the coverage and throw the pass as the receiver is even with the defender and anticipate that he will blow past him, because the fact is, most of us aren't going to get a matchup with a 10 pt SPD difference at anytime during a game. Meaning that 3.5 yards will likely be even smaller.
Later