NHL18: The Facts (What we know so far)
GAMEPLAY
Ratings: Player ratings in the NHL range between 94 and 75 for most NHL teams.
More highlight-reel dekes like one-handed moves, between the legs passes, lofted shots, and back-handed toe drags into the game.
Tightened up one-to-one control of the dekes carrying over from previous years. Part of this refinement includes making it easier for animations to branch in and out of dekes to make the skill stick feel more responsive.
Defenders have full stick control even when they are skating forward and backward. You can now be skating on the backcheck, holding your stick out behind you to take away passing options for the puck carrier. Players have full separation between skates (left stick) and stick (right stick)
Reintroduced defensive skill stick that lets players hold their stick out and sweep it to take away passing lanes.
Rewritten passing engine makes it easier for both users and the A.I. to pass pucks off the boards and pass into space. In the past, the A.I. would only consider direct passes. Now it understands how to lead teammates.
A.I. better all skills including the new dekes and defensive skill stick.
NHL adopts the 3v3 overtime rules implemented by the league last year.
Rewrite much of the puck support in the game to make sure players understand space and positioning. Players move around more to make themselves available for a pass, better position themselves in the neutral zone, and have a better sense of when to rush to the puck.
Tweaking the goaltenders to make sure they don't overcommit to the first moves.
Addressing legacy issues to player-controlled goaltenders to get quicker drops to the butterfly position, as well as quicker transitions from butterfly position to hugging the post.
Tweak puck pickup logic, adding more range and animations for pickups, as well as players being better at gaining possession of rolling/bouncing pucks on easier difficulties.
Tweaking board play to better allow players behind the scrum to dig the puck out. They are also tweaking the physics to change how close to the boards your player can get during puck retrieval.
EA is trying to change the interaction window for net battles so you can get in and out of contact more quickly.
Reduced frequency of goal review sequences to make them less annoying.
Devs are adjusting how long players are out for particular injuries.
A Hockey Training Mode helps onboard those new to the sport (or the game).
---
PRESENTATION
New camera angles to better reflect modern NHL television broadcasts.
Doc Emrick and Eddie Olczyk return to the broadcast booth, as does Ray "Chicken Parm" Ferraro for ice-level commentary. Expect to hear more from Ferraro this year that taps into his insight.
EA is adding "create a mascot" to the creation suite when designing or tweaking your team.
---
MULTIPLAYER
Play co-op in online and offline modes
Mix couch co-op with online co-op
Over 64 ways to team up and play on the couch or online
---
THREES (New Mode)
This new arcade mode is built off the new 3v3 overtime foundation, but amps up the dekes and hits.
This pick-up-and-play mode is built to be easily approachable, while still giving hardcore players the fidelity of control they expect.
The rink for Threes is 75 percent the size of a regulation NHL rink and features colorful new ice textures. EASHL mode Threes is on full size ice.
The only faceoff you take is at the start of each game or period. From there out when a goalie freezes the puck his team is given possession for a new rush up ice.
Before you start the game you can adjust the rules to play with the traditional three periods or change it to a "first to score X amount of goals wins" setting.
You can also adjust the number of money pucks that will rotate into play during the game. These power-ups come in variances of +1, +2, +3 and -1, -2, or -3. So if the game is 3-3 and you score a -3 goal, you earn one more goal for your team and take away three from your opponent, making the new score 4-0.
A new commentator, who is essentially a guy in the stands, takes the place of the NHL broadcast team.
You can play Threes in Play Now, Online Versus, or take on the single-player Circuit campaign. This mode features five circuits to beat.
When playing the circuit, you take control of a team called the Fridgerators featuring six randomly selected players. As you play through the circuits and beat teams, you can earn new players for your roster, including mascots that can take to the ice in competition.
A star system judges your performance in each game in circuit mode, and the more you get, the more new players, uniforms, and mascots you unlock.
You earn specific rewards based on the teams you play, as well, For instance, if you play the junior team the Prince George Cougars, Cougar alumni Dan Hamhuis may join them on the ice. Beat the team, and Hamhuis becomes available to use on your own roster.
EASHL Club allows human goalies for Threes; other modes use AI goalie.
---
FRANCHISE MODE
The centerpiece of franchise mode is the new team expansion functionality, which lets you take control of the Vegas Golden Knights or a 32nd NHL franchise and walk them through the expansion draft. Players that the real NHL teams choose to protect will be untouchable in the expansion draft as well.
If you decide to add a 32nd team to the league, you can customize their arena, team name, logo, jerseys, and mascots.
For those who hoped to play through a few years before expanding your league, you are out of luck. You can only add the 32nd team at the beginning of a new franchise mode.
The addition of the expansion draft can also be played out from the other side as one of the other 30 teams. You can set your protected player list and see who the Golden Knights pluck off your roster.
In welcome news for hardcore sim fans, EA Canada finally got around to adding mid-season contract extensions. These negotiating windows follow the real CBA rules.
To reflect the youth movement in the modern NHL, expect to see a lot more NHL-ready players in the top 10 of drafts. You may also be able to find more gems in later rounds than in previous years.
EA did a lot of work fine-tuning player picking, potential, and player progression. They hope the draft classes will mature more organically as a result.
CPU-controlled teams now have a better understanding of their future cap, which will govern its decision to re-sign restricted free agents or potential unrestricted free agents. If they know they probably can't resign an RFA, don't be surprised to see him on the trade block.
EA did a lot of work to create more blockbuster trades, especially in the weeks leading up to the trade deadline. CPU teams are now more open to trading highly regarded prospects like Jonathan Drouin.
Player morale has been tweaked to better account for player and team performance over team chemistry. Struggling players will have morale problems, or players who are driven by winning missing the playoffs. This may affect their willingness to re-sign.
EA Canada completely reworked the franchise mode hub to surface a lot more frequently used menus. Going to the propose trade screen required clicking through two menu systems last year. Now you simply need to click over to the Upgrade Team blade.
---
EASHL
Given the heavy focus on EASHL the last two years, EA didn't put as much work into the mode this year.
The biggest change is adding the option to play 3v3 games with your EASHL team. EA says the majority of EASHL games were played with 2.1 players last year, so this should be a popular option for those who want to minimize A.I controlled players' involvement or prefer a more wide-open play style.
The 3v3 games take place within the same ecosystem as the 6v6 games, so you can swap between them.
Though EA would like to add the feature in the future, you cannot carry over your stadium, jerseys, or banners from NHL 17.
The new Threes arenas will be available to unlock in the EASHL progression system.
Don't expect any new player classes out of the gate. However, EA is going to analyze how player selection changes in 3v3 modes and if they see a play style unrepresented they could revisit this in an update.
One new equipment option users have is mouth guards. You can choose your color and how your player interacts with them.
---
BE A PRO
Be A Pro isn't turning into a story-focused mode like Madden's The Longshot and FIFA's The Journey.
The biggest change coming to Be A Pro is the return of trade requests. If you don't like how a team is using you, feel free to tell them you want out.
EA added a few new coaching proficiencies around new features like the revamped dekes and defensive skill stick.
The devs also played around with the call-up/send-down logic to hopefully make these decisions more believable.
Given the attention EA paid to puck support and player positioning, expect your teammates to be more effective this year.
---
HUT
Like Madden and FIFA before it, NHL 18 brings solo challenges into the mix that let you complete objectives for currency and unique rewards.
Synergies are returning, but EA plans to take a brand new approach in NHL 18. Stay tuned for details in the coming months.
Sets are still a major focus for the card collection, and EA plans to introduce more master items as well as easy to turn in sets.
No changes are coming to the auction house.
If you played a lot of HUT in NHL 17, expect to get some extra incentives based on your activity and engagement.
---
Other Stuff
New trailer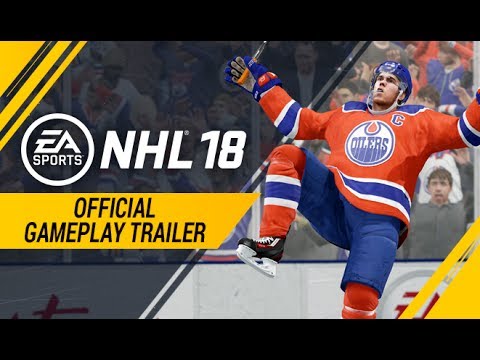 https://www.youtube.com/watch?v=EsvajyRkqnc
Beta Signup
Sources:
Polygon Rammer Interview
Game Informer: 60 Things We Know About NHL 18
NHL 18 Multiplayer (EA Site)
NHL "Threes" (EA Site)
Expansion Draft (EA Site)

JonLOLOL (GameChanger) post about Threes mode
Dad. Gamer. Rocker. Geek.
Post edited by IceLion68 on