Rebounds, the easiest way to score?
Seems like nobody is complaining about goalies anymore, are you EASHL happy with it now?
Anyways, this is an example of very common event in EASHL - yes I know, your d-men should cover it etc. but this happens a lot, and there's really no reason why it should. There are so many things wrong with it.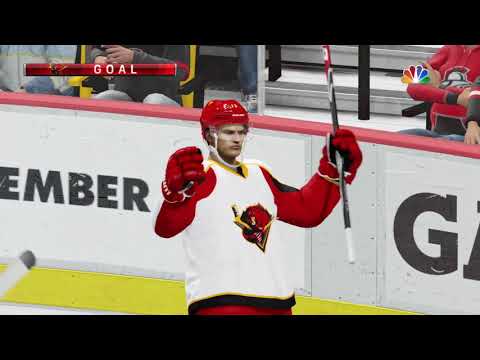 http://www.youtube.com/watch?v=2fQ5_05Q_V0
First thing, is there's no way that this kind of soft backhand should cause ANY trouble to a goalie, who's even remotely in correct position like here. Secondly, there should be no rebound, or the goalie should be able to direct it harmlessly to the left.
Since this was a club game, I didn't have the option to look it more closely with a proper replay. But it looks like either the shot hit the left pad or the stick, and yet it was deflected directly into the waiting stick of the winger on the right, just like they wanted. Even if the puck seems to hit my goalie on the left side of the centre line (can't be absolutely sure where, since I couldnt' rotate the view). In addition to the glitch shots, this is the most common way of scoring in EASHL, there's really no excuse why this should be happening.
Finally, do you notice how just after the rebound being deflected right, the goalie does this little nudge forwards, for absolutely no reason, and thereby makes the gap even larger so the other winger just can't miss it? And I can assure you I didnt' do anything like that. Why did it happen? All this seems deliberately programmed in to me.