Trailer Skating Clips
I wish they showed more but here are some clips from the trailer that seem to show off some new skating. I notice a lot of crossovers which I don't believe are in 18/TPS.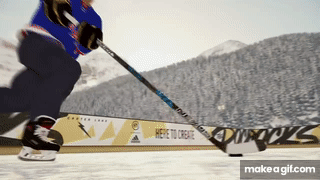 These clips show a little bit of what this statement is trying to convey:
"Grabbing the controller, it only took a matter of seconds to understand just how dramatically the skating system has improved.
Players burst out of their stops, showing the acceleration of world-class athletes. Their edgework, crossovers, and carving looks more in line with NHL players, and it's much easier to turn, cut, and make hard stops. Turns are more responsive and natural feeling.
"Before it was difficult to just take a step or two over, now you can actually do that," Ho says. That fidelity of movement is going to be necessary, because when elite stick handlers get used to the new skating, they could be even harder to stop. "
I've said it for years now, they can add all the fancy customization stuff and game modes they want, but none of that will matter until the game
feels
crisp and responsive to play again. The number one thing they could do is nail the feel and control, and it looks and sounds like they've attempted that at least.
Fingers crossed they've got it right. It would be nice to have a good hockey game again, this gen has been a flop so far. I guess we'll see how it turned out during the beta.