NHL 19 PATCH 1.2.0 - Available - October 11th (expected)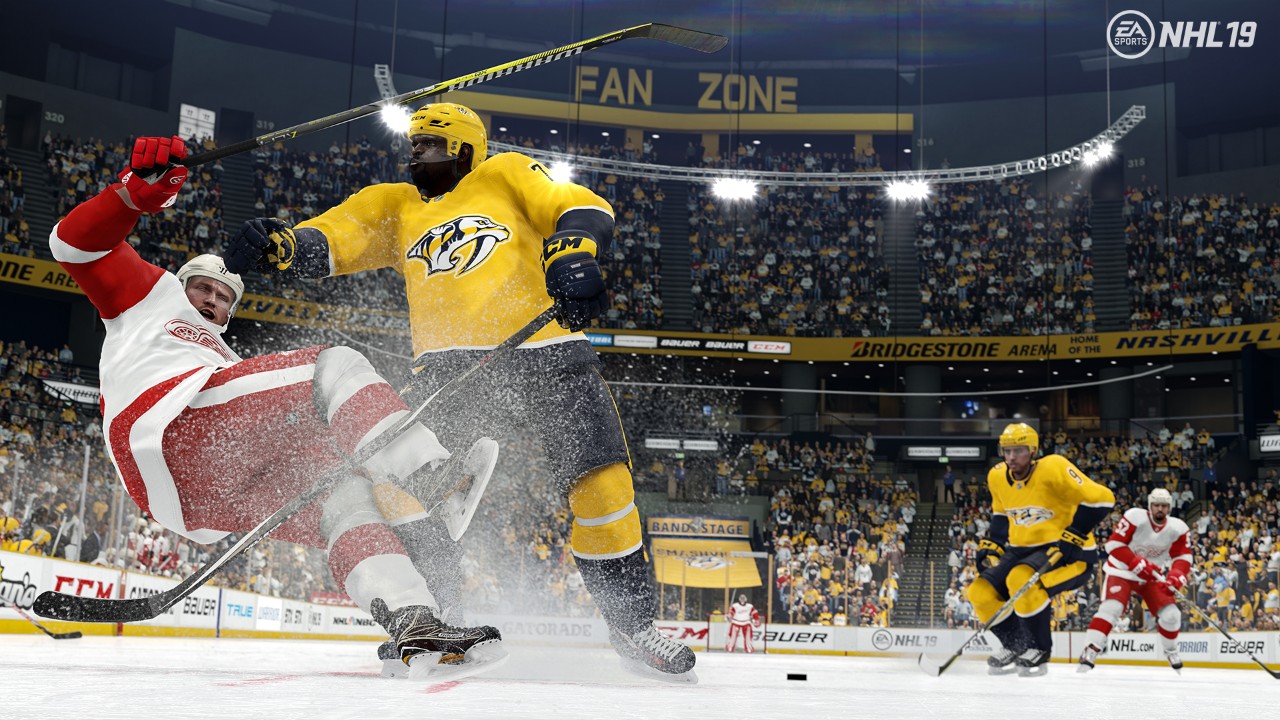 Check out our latest NHL 19 Patch notes and give us feedback here.
Thanks for All the Participation and Feedback
First off, I want to thank all of you for such high participation numbers in the Beta. Obviously we want as many people as possible to experience our latest and greatest product but when it comes to the Beta, it also really helps us improve the more players we have playing games and giving us feedback from their own personal experiences.

So with that, thanks very much also to everyone that has participated thus far in submitting feedback to our Gameplay survey. Even though there are not many surprises there in the data from what overall sentiment is telling us, it is great to have data that confirms any suspicions.

As mentioned before, when writing on the forums, it is sometimes tough for us to message out what we may or may not do in the future as we can't always commit full stop to something but I do enjoy having candid conversation about what people feel about the game, certain mechanics choices and what they would like to see improved or even in some cases left as is. At the end of the day, we can only talk on the forums so much and it is the product that has to do the talking. I know people are curious about what we are thinking but experience says that it will only matter once the improvements make it into your hands. With all the conversations we have had over the last few years on skating, physics, player switching, pickups, goalies, etc. it is finally nice to be able to get many of these 'hypothetical' improvements we have been talking about into your hands.

The other piece that I have mentioned before is design philosophy vs. execution. Overall, I wouldn't say the design philosophy has changed all that much – we want a balanced game where people feel their twitch skill and hockey smarts can separate them from their opponent and at the same time want the experience to feel extremely immersive leveraging what we know people love about the real world sport. In that, there is a lot of subjectivity as people get into the details of how to execute against that but we are usually aligned on the high level themes that fit under that vision. With time and new technology and some incredibly talented teammates, we can try new things to get closer to achieving our goals and the more feedback we get from the community, the more we understand how close we are getting to our goals through others eyes.

I am happy to say that the overall sentiment for gameplay this year is quite positive but the unanimous topic of debate for the moment is obviously pokechecking, so I wanted to touch on it a bit. I would like to discuss design philosophy vs the current execution you are playing from the time we cut the Beta, and what tuning/code can do to further hit our vision going forward. At a high level, I am sure we can agree on the overall philosophy behind defending – Players on defense should have a collection of tools at their disposal that all have risk/reward associated by context and the best players will be those that separate themselves using good twitch skill and hockey knowledge in their use of all of the tools available.

Defense should not just be about pokechecking. It is about great positioning and taking away options for the offense so that they can't drive the play. Pokechecking is one tool to help achieve this. Players use their stick in hockey purely to take away an area of the ice where they don't want a puck carrier to go – it can be an effective tool without ever making contact with a stick or puck purely as a preventative strategy. Incidental contact makes this a viable option as players won't want to skate in such a way that their stick makes contact with your extended stick. This then allows defenders to angle players to less options where they then run out of room and lose the puck to incidental stick on stick or stick on body contact or where the defensive player can use their body to separate the puck carrier from the puck. With the improvements to skating and physics, defenders have way more control over their positioning and how effective their body contact can be even at low relative speeds. There isn't really a reason to have to pokecheck once the puck carrier is closer than your stick length away at all. Incidental contact through good body positioning will do the same job. However, if the puck carrier is talented, they won't get that close to you and you will want to use your pokecheck or manual defensive stick to take away more time and space from the puck carrier, forcing their hand to do something with the puck. Stick lift is also a much more viable option this year when you get in close proximity as well, as long as you can get an angle where you have good leverage on the puck carriers stick. And remember, if you get the puck carrier to change their angle from what they would prefer to do or force them to protect the puck, you are achieving half your goal of limiting their options, slowing them down which will get you closer to a turnover. Defense isn't always binary right away. As a team, you need to limit options before you can take action for an actual turnover.

So with that, what did we do with the actual pokecheck mechanic based on our design goals and what we heard from the community over the last year?

- We improved our collision detection of the stick on the offensive players body, their stick and the puck itself. This is probably the biggest change regardless of what we do with penalties that makes pokes from behind less effective.

- We added variables to make sure we were rewarding smart defense and conditions that simulate what would take place if we had a more physically accurate stick on stick or stick on body solve.
- Pokechecks from that front where your stick blade just hits a skate will not cause a trip. We have the ability to widen or decrease that angle. Pokechecks from any other angle where the blade hits the skate will cause a trip
- Pokechecks where the shaft of your stick hits a leg will cause a trip Again, we could tune angles for this but right now, it will cause a trip from any angle.
- If you are using manual Defensive Skill Stick and you swipe your stick through both legs, the player will trip.
- If you are using manual Defensive Skill Stick and you swipe your stick through one leg from the outside inwards, we don't cause a trip if you correct yourself and stop. However, if you swipe from between the legs outwards on one leg, the player will trip.

- These above DSS conditions allow players to manually reach at pucks and correct if they have gone too far to show self control but if you are careless and swipe through both legs or are getting in between a players legs, you are punished.
- Remember you can also hold out the right stick first or right away as you are pressing poke to go directly to that angle for more control (we are also looking to improve this blend to make this even more viable)

- Also if you let go of DSS and start to blend out, it won't cause a trip so if you catch yourself and let go early enough, you can save yourself a tripping call and if you are going for a pokecheck and it is going to cause a penalty, you can actually react quickly and pull away with your right stick to pull the stick away from the players legs.

- We also made an improvement to the tracking during pokechecks that last year was benefiting weaker players and punishing more skilled players. The tracking after you pressed pokecheck would track the puck even if it drastically changed direction. So if a smart player saw a puck out exposed and started to poke but then the offensive player drew it back to protect it, the stick would then swing and possibly make contact with the puck carriers leg causing a trip when it should just have been a miss. Or conversely, it may help a player get a poke they didn't deserve but tracking a puck that was moved that the defensive player didn't anticipate. To fix this, we know track the puck position relative to the movement of the puck carrier from the time of the poke. This means that if the puck carrier then protects the puck after that frame that the poke will now just miss into open space rather than swing through the puck carriers leg and it also means that a player that just randomly hits poke won't be able to get assistance to hit a puck that then changes direction after that. You will now be rewarded timing your pokes based on knowing the current and upcoming vulnerability of the puck relative to it's current movement.

- Getting puck first or stick on stick contact to free the puck before your stick then hits a leg should negate the stick from causing a trip. There are edge cases that players have run into that we are looking at that will need code to fix but overall this is working and we will continue to improve it to reach the original intent. This means you can still be quite aggressive from any angle if you feel you will at least get the puck carriers stick first.

- If your stick collides with a players leg geometry, even if we don't trigger a trip, we will disable that sticks ability to cause stick on stick or stick on puck contact. This simulates the fact that the defensive players stick should not have been able to get to the puck as it would have been blocked from getting there by that collision.

- Finally, it is our intention with both DSS and regular pokes to not count the blend out as an aggressive stick action and it should not cause a trip. There are cases that we are seeing in the Beta where this is the case and it isn't intended so we are looking to see what can be improved there for more consistency as well.

As I have read a lot of candid feedback and subjective thoughts on the subject, I thought I should also mention a few things. We don't just listen to what a few people say. We also often look at data to qualify those thoughts and then weigh all those things against our design philosophy for the entire gameplay balance before making any calls.

From looking at the data, returning NHL 18 veterans are actually more likely to trip players than new players to the game. This could obviously be that new players are using pokecheck less but it could also mean that using pokecheck more aggressively was a learned behavior that the previous game allowed and that people need to adapt to new conditions that may be better for the overall balance of the game. We also know that over time, all of our players have adapted to the current game regardless of their skill level and take less penalties over time. These are all great things from a gameplay mechanic perspective as it means there is a skill gap and that it is not random. I also like qualifying that against the leaderboards and other data. I see players who are able to have sub 1 goal a game against and still average less than 2 penalty minutes per game so the changes to pokechecking, even in their current state don't compromise their ability to play defense.

So with all that said, we plan to stick to our original design intention, but we will most certainly look for opportunities to tune and fix bugs for anything that goes against that intention.

Thanks for reading and please keep the feedback coming!

Post edited by NHLDev on
Howdy, Stranger!
It looks like you're new here. If you want to get involved, click one of these buttons!
Quick Links