NHL 20 Content Update October 25th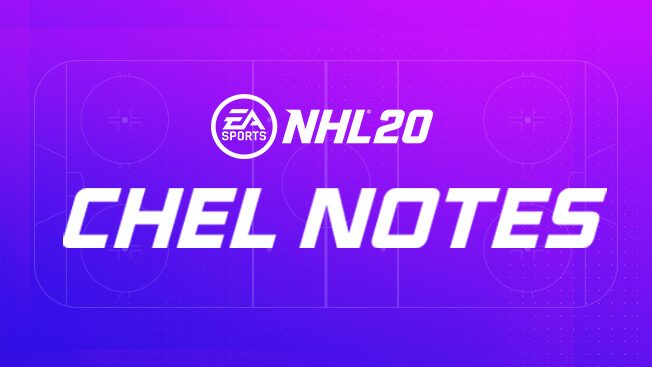 Check out our CHEL notes with our October Patch update here.
HUT Deep Dive
Hey guys, check out what our Producers have to say about the upcoming year for HUT:
Hi Everyone, this is Andrew Marks HUT Producer and Nicholas Shewchuk Live Content Producer on EA SPORTS™️ NHL® 20. We're here to tell you about some of the improvements and changes coming to HUT this year.
Squad Battles
NHL 20 introduces Squad Battles to HUT. Squad Battles is a Single-Player competition that you may be familiar with if you've played FIFA Ultimate Team. New opponents are available every day, including weekly Featured Squads assembled by NHL® players, artists, hockey influencers, and athletes from around the world.
Every day in Squad Battles you'll be given 4 new opponents to play. These opponents can be 'refreshed' to play new opponents every 24 hours on weekdays, and 12 hours on weekends (schedule below). Once you refresh opponents, you'll lose the ability to play any unplayed games, so if you want to play all 37 games in a week make sure you don't refresh your opponents before playing them. Note that if you don't login to refresh opponents during an available window, you won't be able to play those games.
While these are Single-Player games, the opponents are real players' teams from the NHL Ultimate Team community. Playing games in Online Seasons, Competitive Seasons, HUT Champions, and Squad Battles played, has a chance to save your team as someone else's Squad Battles opponent.
You can also choose to replay any opponent once (excluding the Featured Squad) for a cost of 500 coins. This can be useful in cases where you think you can increase the Battle Points earned for that game, such as increasing or lowering the difficulty. Replays are optional, and once opponents have been refreshed you'll lose the ability to replay those opponents.
The Opponent Select screen will give you some basic information about your opponent's team, such as Team OVR, Team Logo, and Synergy Impact. Synergy Impact is a simple bar which shows a combination of Team OVR and Active Synergies, giving you a quick look at how Synergies impact the team's overall ability. When you select an opponent, you'll also see their Offensive Pressure and Defensive Pressure they've set in their Team Strategies. If you'd like to set your own Team Strategies, they can be found in 'My Team' → 'Manage Lineups' → 'Strategies'.
Battle Points
Each game played earns Battle Points. Battle Points earned are based on several factors:
Difficulty Selected – Earn more Battle Points on higher difficulties
Opponent OVR - Earn slightly more points for beating teams with higher OVRs
Game Outcome – Earn more points for a Win than for a Loss or OT Loss

You'll also earn bonus points for each Win based on your goal differential (up to +5 goals)

Goals Scored – Earn points for each goal scored (up to 5 goals)
Shots For – Earn points for each shot taken (up to 20 shots)
Here's an example of roughly the points you'll earn for a 1-0 Win vs. a 2-1 Loss at each difficulty. As you can see, both winning and difficulty have a huge impact on the number of points earned.
Leaderboards/Rewards & Daily Login Pack
As you play Squad Battles games and earn Battle Points, you'll be placed in a Weekly Seasonal leaderboard. Leaderboards consist of a Top 100, where the best rewards are earned, along with 12 tiers below.
The threshold to reach each tier is based on a percentage of all Squad Battles players, so this means you can drop ranks if other users start earning more points than you.
The rewards for each tier can be viewed in the 'My Rank' tab within Squad Battles, the higher you rank, the better the rewards!
Monthly Rewards
This year we're tweaking the Monthly Rewards program so you don't need to login multiple times per day. Rather than receiving a Daily Pack with a Monthly Rewards Collectible every 8 hours, you'll receive one every 24 hours. This means you can earn 1 Monthly Rewards Collectible each day from the Daily Login pack, plus 1 Monthly Rewards Collectible each day if you complete all Daily Objectives. It should be possible to earn around 60 Monthly Rewards Collectibles each month (starting in October), varying slightly month to month.
Along with this change, we're giving you a variety of reward options to choose from through Sets, based on how many Monthly Reward Collectibles you're able to earn in a month. While the Monthly Reward Sets may change from month to month, here are a few examples you may see: Base Pack, Premium Players Pack, or an 83-85 OVR Choice Player Item.
Lastly, in order to give you more choices, and ensure more variety between teams, we've removed the single Monthly Reward Legend each month, and will be replacing the top Monthly Reward with an Icons Collectible which can be exchanged through Sets for a Master Icon player (more details below).
Note: This Icons Collectible will be available in Monthly Reward Sets at a reduced in September due to the shorter month with NHL 20 launching on September 13th.
Icons
Master Icons in HUT 20 (known as Legends in HUT 19) will be available through two main avenues: Packs and Sets.
All 64 Master Icons to start the year (OVR 85-91) in can be found in packs in HUT 20. Every pack in the HUT 20 Store will have Pack Probabilities available to view, and when Pack Probabilities list 'Master Icon Player', it means that pack has a chance at containing a Master Icon.
Master Icons will also be available through Sets, categorized by player OVR. Simply redeem Icons Collectibles for Master Icons, starting at 1 Collectible for an 85 OVR Master Icon and increasing at each OVR. These Collectibles can be found in Packs that contain non-player items, earned through Monthly Reward Sets, or you can exchange extra Gold players in your collection for an Icons Collectible through Sets. You can also earn Icons Collectibles by completing full sets of Milestone Objectives.
Each Master Icons Set will reward you with a Master Icons Choice Pack for the OVR selected.
For example, if you redeem 1 Icons Collectible for an 85 OVR Master Icons Choice Pack, you'll be able to choose from 1 of 2 85 OVR Master Icons. All Master Icons Sets are untradeable.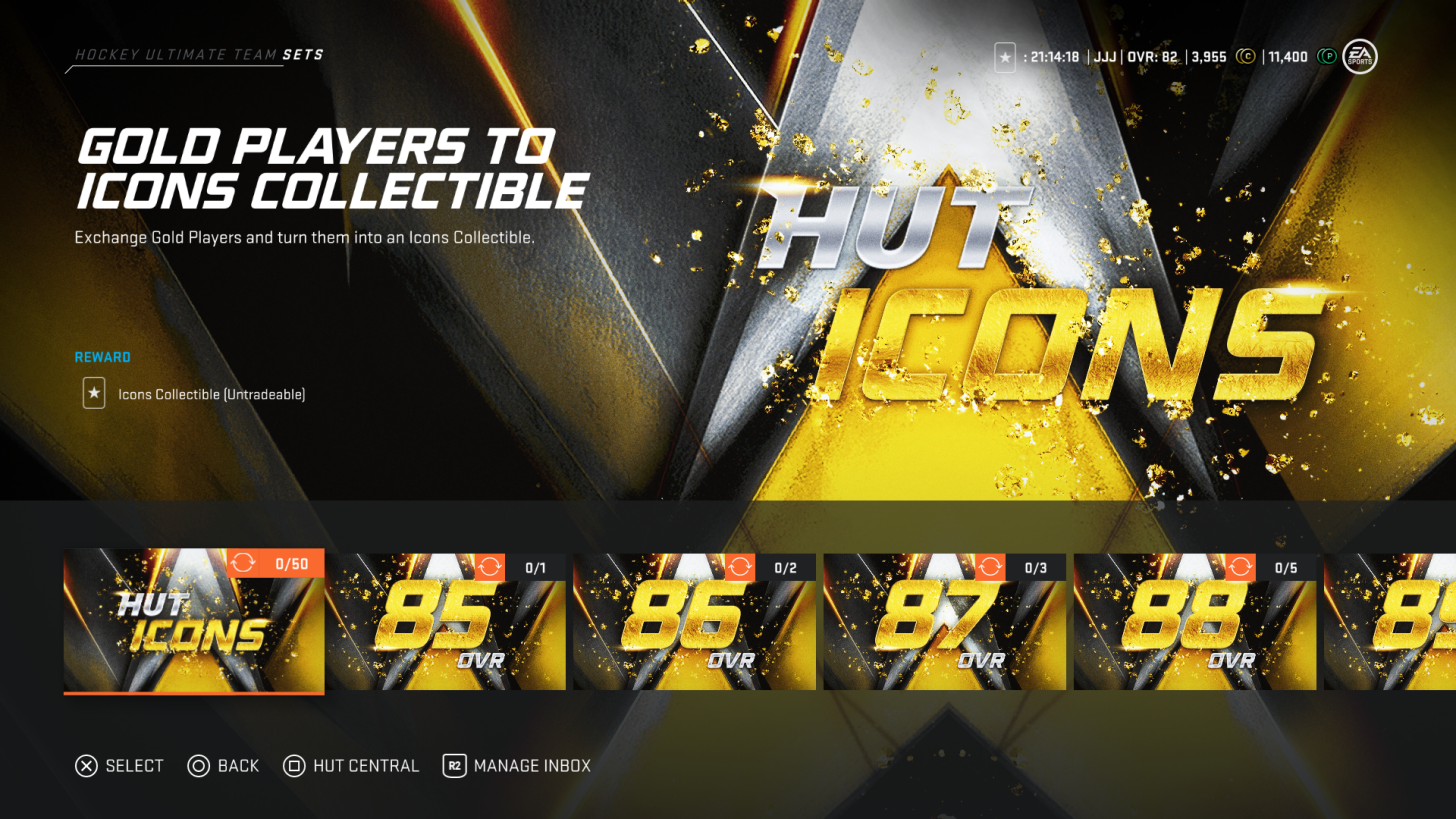 Minor Notes
Player Rarity
Commons and Rares are no-more! All players are either Gold, Silver, or Bronze, with no additional distinction between Rare or Common. OVR Ranges for each grade remain the same as HUT 19.

Gold - 74 and up
Silver - 62 to 73
Bronze 61 and below

As there's no longer Commons or Rares, some pack descriptions may now reference the number of 80+ OVR players guaranteed.
We've also tweaked up the Upgrade Sets to simplify them and accommodate this change.
Position Restrictions
In HUT 20 you will only be able to put Forwards in Forward positions (LW, C, RW) and Defenceman in Defensive positions (LD, RD) in your even-strength lines.
You'll still be able to put any combinations of Forwards and Defence on your Powerplay, Penalty Kill, and OT Lines.
This change also comes with an additional filter for FWD or DEF, available in the Auction House or Collection search.
Auction House Compare Price
Select any player in the Auction House, then choose 'Compare Price', and the Auction House will filter to just show all other versions of that item available on the market. This should allow you to quickly find the cheapest version of a player before buying.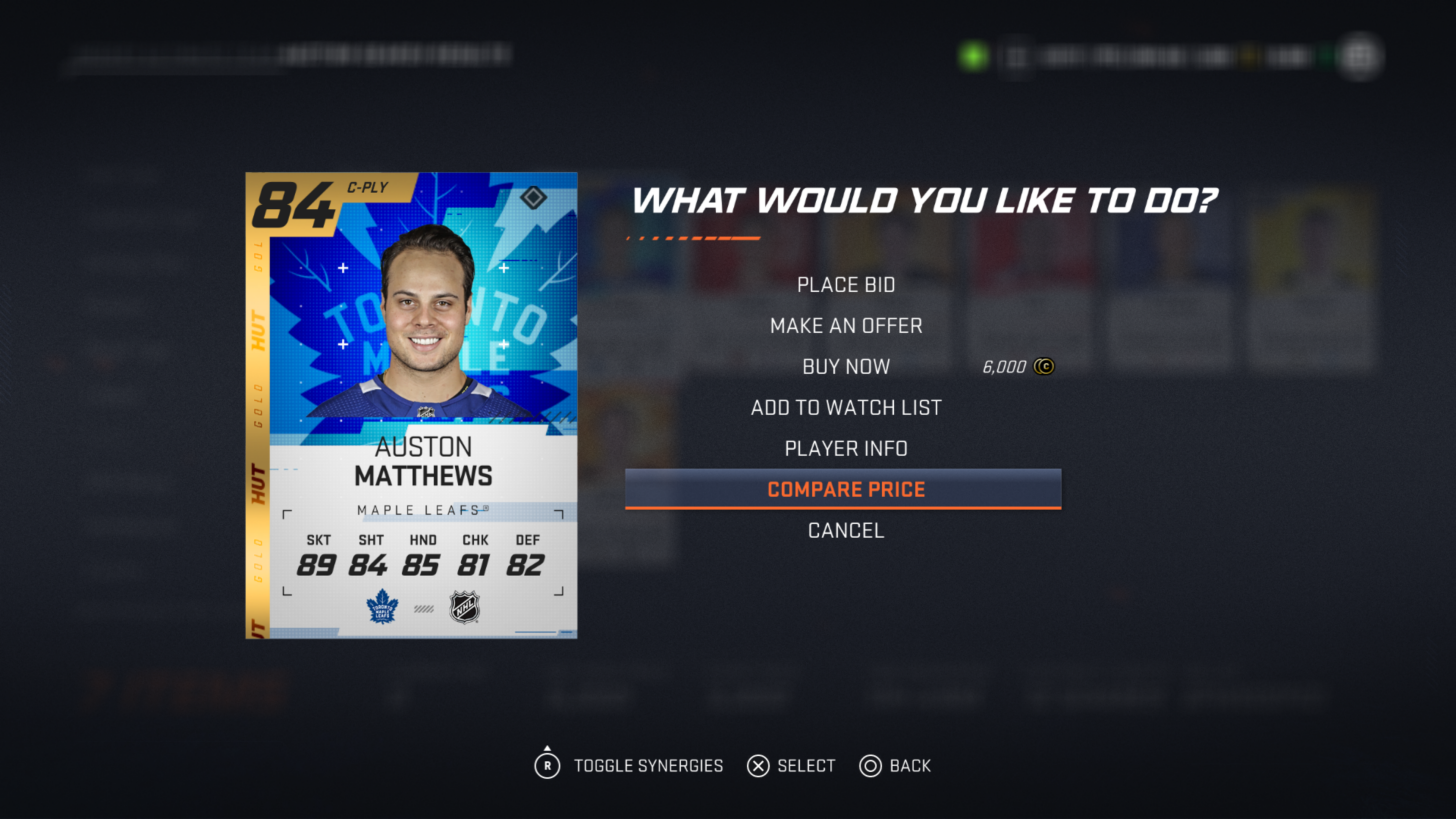 Objectives & Milestones
This year, Event Objectives will be replaced with Weekly Objectives, so you can expect to see these on a more regular basis, even outside of Event periods.
Milestones this year will reward a variety of different Loan Master Icons to try out and experiment with as you progress through the year. Completing a full Milestone category will reward Icons Collectibles, which can be redeemed for Master Icons in Sets.
We have also removed Progression Objectives this year to simplify things a bit.
Challenges
Challenges are now broken into categories based on Difficulty. Within Challenges you'll find: Rookie, Semi-Pro, Professional, All-Star, and Superstar categories, and of course special Event Challenges released through the year.
In each category, you'll find a variety of challenges at the difficulty selected, including some challenges inspired by HUT 19's All-Star Event Challenges.
Essentials Packs
There will be just two Essentials Packs in the HUT 20 Store

[5000 Coins] Base Pack - 10 Items, at least 3 Players with at least 1 Gold Player.
[7,500 Coins] Premium Pack - 10 Items, at least 4 Players with at least 2 Gold Players.


Special Packs

In addition to the two Essentials Packs, you can expect to see various other packs rotating in and out of the HUT 20 Store at different times throughout the year, such as Player-only Packs and Choice Packs.
These Special Packs are also used for rewards throughout HUT, so expect to see them as rewards in modes like Squad Battles, HUT Champions, and Competitive Seasons.


Pre-Order Content
Here's a bit more info on some of the content available in the pre-order offers.

Hometown Hero (Ultimate & Deluxe Editions) - These players will start the HUT 20 year at 83 OVR, and grow +1 OVR per month until they hit 90 OVR in April, 2020. Select 1 player from any of the 31 NHL teams. We've tried to select players from each NHL team that have a bit of an extra connection with their team, whether they're a local like Troy Stetcher from the Canucks, or a long-term vet like Henrik Lundqvist from the New York Rangers.
Diamond Player Choice Packs - These packs let you select 10 players over 5 rounds. All players available for selection are 80 OVR or higher

Synergies

This year you'll find mostly new Synergies in HUT 20, with a few returning from last year.



LIVE CONTENT
NHL 19 THANK YOU
Firstly, I just want to thank everyone who participated in HUT in NHL 19, we had a ton of fun running all the live events this past year, and took some great learnings from all the feedback from the community. We hope we can closely engage with all of our HUT fans this year and continue our positive momentum from last year.
GOALS FOR NHL 20
Put simply we want to deliver what you (our HUT players) will consider the absolute best year of content in the history of the mode. We hope we can achieve this through:

1. Directly connecting real world results into HUT
We want to connect HUT with real hockey stronger than we ever have, so that following your favourite teams and players can be something you do in HUT right alongside with the real world. We saw some success with this in NHL 19, and feel it's something we would like to continue in NHL 20 in new and interesting ways.

2. Increased support for European Leagues / Junior Hockey.
We want you to know that if you're a junior hockey fan, or a hockey fan in Sweden, Finland, Czech Republic, Germany, Switzerland, or Austria that we intend to increase support for players in your local leagues. We care deeply about giving you more opportunities to build teams using players from your local leagues and favourite teams that you may not have had in the past. Also of note is that this will not impact the quantity or quality of NHL content we release.

3. Brand New Events
On top of delivering new events, we really want to aim to give events more meaning, a sense of purpose, and much stronger hockey theme. We're hoping our events can drive hockey conversations, debates, and discussions throughout the year - on top of just making team building more interesting than it's ever been. So for anyone who has played HUT in the past, we're working very hard to try and deliver a brand new content experience for you this year. And you won't need to wait as we'll have a number of new events right out of the gate at launch this year.

4. Restricted Competitive Seasons
Our intent this year is to try and include more restricted competitive seasons, but we also want to be more conscious about communicating what the restrictions will be in advance of the competition so that you can prepare and build squads ahead of time. For those new to the concept, restricted Competitive Seasons allow us to create an in-game tournament, where you might only be allowed to use Bronze players, or only European Born players etc. We feel it's also another fun way of help giving value to a great variety of items in the game.

CLASSIC NHL
Starting on September 13, we're launching our very first NHL 20 Event - Classic NHL. This event will put some Classic 90's hockey stars from the 16-Bit era up against some of today's top NHL talent - asking you "are you an old school or new school NHL gamer?" when you start building your roster.

As someone who grew up playing 16-Bit NHL (and knowing many others in our community did as well) we wanted to celebrate this era with our first event.



While we're not ready to reveal all the Master Items for the event, we do want to mention here that at the start of the event we will give you a Choice Pack with Loan Versions of all the Master Items from the event so everyone will get a chance to try at least one for themselves.

Classic NHL is just the beginning of what we feel will be an extremely fun and exciting year of HUT Content. We want to give confidence to our players that we're going to continue listening to feedback throughout the year, and that we're going to deliver a full year of great content from Winter to Summer - and that HUT is THE place to be if you're a competitive player or team builder.
EA SPORTS NHL 20 is available worldwide on September 13. Pre-order the Ultimate Edition and play up to three days early.

Here's a link to the NHL 20 HUT Deep Dive page:
https://www.ea.com/games/nhl/nhl-20/news/chel-notes-hockey-ultimate-team
NHL Series Game Changer & Volunteer Moderator
Post edited by EA_Roger on
Howdy, Stranger!
It looks like you're new here. If you want to get involved, click one of these buttons!
Quick Links