NHL 20 Content Update October 25th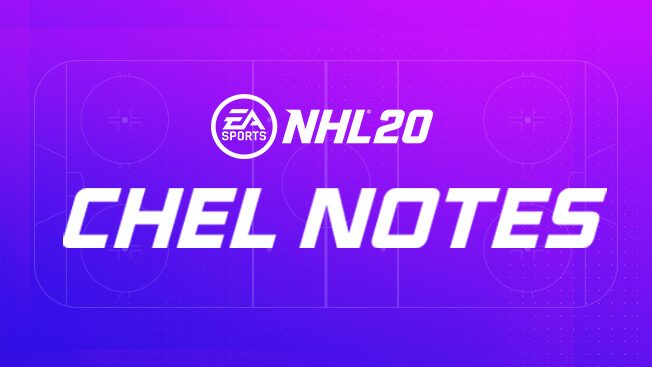 Check out our CHEL notes with our October Patch update here.
Devs, Can We Get An EASHL Problems Thread Stickied?
Morning,
I know there is a list of things wrong with EASHL right now. I am asking that we consolidate all of them into one thread. Thus making it easier for your side to see our problems, and also making it easier for our side to "gather" our stuff at.
I myself, think it's playing Decent, for the most part. There are still issues post update of own team goals, or own team D men slamming into own goalie from chasing the opponent back down the ice, resulting in an own goal.
In this Video, you can see at about the 20sec mark, both D men are now chasing the opponent directly into the Goaltender. Thus causing a trainwreck of three of my robot skaters, knocking the puck into the net. Shouldn't happen that way. D men need to hold up before they storm the crease like it's Normandy.
Example 1.
In this Video, while it's not a full on Sprint into the Goalie, the other team's Forward is able to straight up push our Dman with puck, into the crease, then across the line?
Example 2.
In this Video, taken from my desk LOL, our own player grabs the rebound from the Goalie, then five holes him two seconds later.
Example 3.
I know there are more than just the Goalie/Crease sensitivity issues. The "GomperBomb" from essentially any point beyond the circles to the blueline, I feel is still too strong. Half the time the G doesn't even act like it recognized a shot occurred. I have some videos of that, both my team doing, and my team receiving, if you need proof. With the Goalie hammering issues from above...we don't/try not to play that way. Does it happen sometimes on accident? Yes, of course.
Thanks for Taking the Time to Read. Anyone else with issues, do you think it would be a good idea to have One place for the Devs to go? Or better if we littered the front pages with the same issues?
IE Those poor dudes who STILL can't play EASHL on PS4 due to the Error Code. I have a picture of that also if need be.
Thanks Again,
Mook
Howdy, Stranger!
It looks like you're new here. If you want to get involved, click one of these buttons!
Quick Links