NHL 20 Content Update October 25th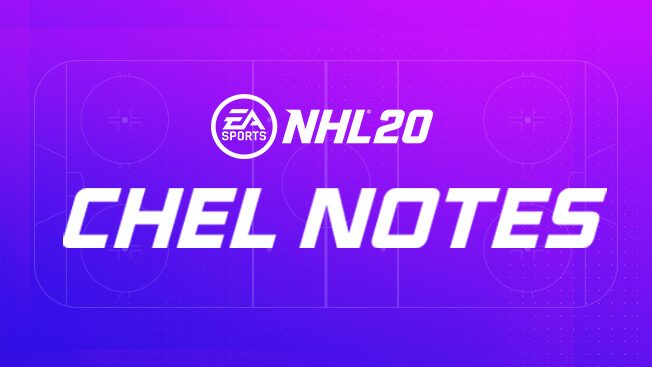 Check out our CHEL notes with our October Patch update here.
NHL Future needs
What the NHL Franchise needs,



Now I am not getting into gameplay.. we can beat that horse in another thread!



This is strictly about the way the game works in its offline modes…as this is where 65-70% of people play.



Now we know there main focus is to get as many people to play online as possible and that's all fine and dandy..but..



The majority has and always will be off line. So let's begin



Be a GM



Have to do this mode first as of right now it's a glorified season mode



Lets start with the GM him/her self



The duties of the general manager in game should not be complicated nor easy as the same time.



Hire staff

Coach, Assistant Coach, Trainers, Scouts both amateur and pro, medical staff.

All these staff members should play a critical role in your organization



Coach- run the team, lines, chemistry ( set each generic coach with a specialty/s )

Assistant coach- power play, pk, defensive roles..etc

Trainers – set up weekly and daily drills to help develop your players or keep your vets on pace

Scouts- amateur will scout youth for future development w/ specialties on the ype of players they are good at finding

-pro will look towards trades with other nhl teams, waiver pickups and potential FA signings from any pro league available

Medical staff- pretty simple … quality of staff and specialties that you hire will depend on how quick a player recovers from injury



Now let's move onto contracts and players



This is one of the most crucial areas for improvement as it's the most stale part of the game



Contracts/negotiations



GM and Players MUST be able to go into negotiations!

There must be a back and forth between both the player and agent and the agent/player and GM



Players/agents should be demanding contracts based on performance ..not just in game potential

These demands must have the ability to include Wage, clauses, term.



Wage/term – amount of money they will earn AAV and over how many years

Clauses- No trade, No movement, limited no trade, limited no movement, PTO

Promises- line, role, time on ice, etc



GM negotiations



Pretty much the same

Offer a contract based on what you feel the players value is ( based on your pro scouts/assistant gm reports )



Free agency



Negotiations must work the same way.. no more of this is what the player wants… wait till the 4th of july for them to tell you if you offered more they would have signed with you.. but they choose to go to the Rangers instead.

There must be a system that lets you see or hear from in game analysts that X team has offered Malkin and 12.5x8 deal with a NMC NTC but only for the first 4 years.. that would allow you to see that the player wants a full clause for the whole 8 year term.. this way you can choose to try and beat it .. or let him go and sign a more value player.



RFA/UFA/Resigning



Same negotiation system… for the UFA

RFA players should be able to hold out based on contract negotiations, request bridge deals, etc



Mid season resigning should be based off current cba as to when players can or want to resign.. allow palyers to reject negotiations mid season… or request a contract extension.



Players



Yet another crucial area of the game



Through out the season players go through hot and cold streaks, this needs to be placed back into the game and have their stats affected based on it ( live stats ) maybe a 2.5-5% increase/decrease in stats depending on how long the slump or streak is going



Chemistry- both line and player chemistry is a must in the game… players should start to gel or fall apart based on who they are playing with or want to play with

Example of this would be during the negotiations of a FA you promised 2nd line time but are only playing them on the 3rd line.. they may not be happy and thus will not gain chemistry .



Demands from the players

Trade demands, more ice time, less ice time ( age both youth and vets ), conditioning stints for players slumping, pp time, pk time, or less of pk/pp

Change of roles or positions.



Player evolution is a must for the game



If we draft a player and Sid lee is a sniper at 6'4 235 and has a speed raiting of 83.. we may choose to develop and train that player to be more of a 3rd line grinder

Or if we have a player and are fighting lots with them they may change their role on there own to a fighter which would hinder there development..

Or a 3rd line grinder that's great defensively ( Steve Staios ) and turn them into a solid 3rd pairing dman

Lots of discussion could be had on how this would or could work



Trades/ deadline



This part of the game is kinda like running in a dark room and hoping to not hit a wall…boring..boring…boring

There was zero thought or effort placed into one of the most exciting part of the NHL



Trade negotiations need the biggest overhaul … never should I see the same sedin trade over and over and over and over .. all season long

There needs to be more options while negotiating



Simple commands like sorry that is not enough, you need to add, hang up ( may ruin relationship with gm, accept, lets work to make this better, id prefer picks/ porsprcts over the other



To full negotiations where you and the other gm sit down via phone and hammer our each aspect of the trade.. even pulling in a 3rd or 4th team to make everything work.



In my opinion these are the first things that need to be added into the game to make it NHL





Now onto Be a Pro,



Won't have to dive to deep into this mode as all you have to do is incorporate all the new Be a GM stuff into this mode and it fixes a lot of the aspects NHL wise.



But that does not excuse the lack of everything not in the mode



News feed so you can keep track of yourself ( paper, social media, etc ) good or bad talk can effect your morale

Training – choose the type of training you do to develop into the type of player you want to be or what your coach has requested you to become for the team.

Choices – these will be simple thing that come up from week to week that may affect your game, training, development positively or negatively based on your choice

Examples mom and dad are in town and what to go out for dinner yes or no.. you chose yes and you had too much to drink and you woke up late missed your power skating training

Friends are going to fly out to Florida to watch you play and go out and have fun.. you say not on a game day.. friends are angry this affects your morale 2.5% increase because you know your helping your team win'



Little things like this tied in with the depth of the be a gm adds and you have the start of a great game.



Which brings me to my final add



Player Story



This is tied into Be a Pro



Choose where you start

Junior/college- up and coming star path

European leagues – the unknown path ( undrafted euro player ) or up and coming star path

Try out (PTO) at 19-21- undrafted & unknown pick a team and try out



Everything you do decides the type of player you become on and off the ice or where you may or may not get drafted even if you are ranked #1

From interviews to charity events.

And interactive game mode that makes you makes both easy and hard choices

That either make you a fan favorite, a dressing room leader .. or the cancer on the team…



But that is it for now.

Let's discuss and see if we can help them improve the game..

maybe


















Howdy, Stranger!
It looks like you're new here. If you want to get involved, click one of these buttons!
Quick Links