The Last Straw...
Well, I tried. I tried very, very hard to give this game a chance after an initial first couple of days where EVERYTHING about it was just infuriatingly frustrating.
A few days ago I talked to a few people from LG, and they offered to help me see this game in a better light and to just give it a chance so that it might grow on me. So I went back, took my time to re-learn what (I thought) I had already learned. But then things kept going awry again. Things out of my control. I kept plugging away, however... And then this happened: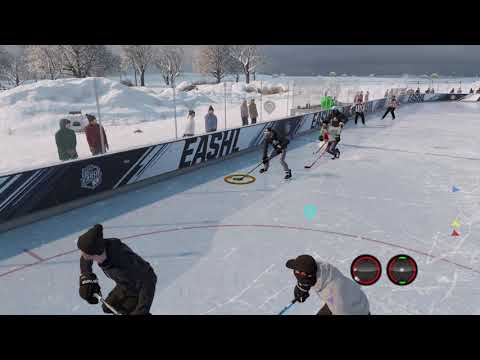 I mean... When it happened I was stunned at first. Then I watched the replay, and held on for a few seconds before deciding "Nope... Not worth it" and exiting the game (our team still ahead 3-2, BTW). Then later I went and looked at the saved clip a bunch of times after I had cooled off. Maybe my input got lost in lag? No... No, the goalie moves when I hit the trigger to make a save, except he stands up and lets the puck through, then he goes down on his knees. Would've been nice if human Goalies also got to see their inputs like skaters do, eh? But I guess that's too much to ask for... So the game received my controller's inputs correctly, it just DECIDED it didn't want to make a save. it wasn't even a hard shot or a tough shot. There wasn't a screen in front of me. The puck didn't even get deflected. What was the goalie engine confused about that it hesitated like that??
I can't, man! I can't in any good conscience... *Sigh*
I don't want to complain anymore. I just wanted to play the game. I wanted to play because I love the professional sport of hockey. I want to join in a league and have competitive matches with other users. I would love that very much. And I do want to hold myself accountable, just like I do in every other game I play; when I play Street Fighter, if I lose because I missed my combo or I input the wrong move, that's on me. The game doesn't do a Dragon Punch or Hadouken for me. I do it. If I play Gears 5 and I get sawed in half because, it's because I failed to shoot or throw a grenade at the enemy. The game doesn't decide to do it for me. If I play F1 2019 and I crash onto the wall, that's on me. I decide when to accelerate, when to put on the brakes and where to start turning.
Sadly that's not the case with EA's NHL. I feel like there's too much that the game decides for the users. Too many shortcuts that are in place which give users less control. Auto-passing, Auto-shooting, Auto-saves, Auto-puck recovery, Auto-Line changes, etc. How can I be competitive if I'm not the one that's in control??? I get it, it would be nearly impossible to give a user full control of a position like the goalie and make it viable. I get that. So you'd think that AT LEAST, if I do the things I CAN do, like being in position correctly and pressing a button when I have to perform an action, the game would reward me. But no... I get punished because... Well just because! The animation system is either inadequate or too overloaded to handle all the functions we SHOULD have. It kinda feels like this game is a Roller-coaster; I just sit down inside the cart, I get securely locked in place and I'm dragged along for the ride. I don't get to decide where I'm going, how fast I go, nothing. At least if it was a fun ride, but it's barely mediocre at best.
I don't know... I'm just depressed that after so many years, THIS is the state of the game and it will stay like this. There's no incentive for Ben and his dev team to do anything to remedy the situation, this series, on THIS generation of consoles is, for all purposes, done. Next year it's gonna be a "new" game on a "new" generation of consoles, so there's no point in even trying to fix this mess. No tuners can fix this mess. Not even a patch, I'm afraid, as the amount of code to be able to fix all the issues, just with the goalies alone, would probably skyrocket the file size to at least a dozen GBs of data.
This is what the game is. And it's not acceptable. My wife spent 40$ on this as a present for me and it's still not acceptable. Not one bit!
If the game is flawed and has to be fixed, then please; FIX IT! I will give it another chance... I mean, not like I have a choice now. At least I want to validate my wife getting this for me as a gift. But in this state it's not worth it. As Daffy Duck once said: "This is the final... The VERY, VERY Last Straw!"
Sorry for the long post, but yeah... too many things I needed to get off my chest.