Idea for finding your Springfieldians.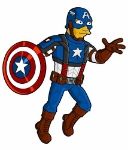 This would be nice. Truthfully, anything that would make checking on a character's status easier, would be welcome. As my Springfield is getting bigger, it's getting easier for me to miss a character that is done with a task. It's even easier not assigning a task to an idle character. For the time being, even though it makes my town look worse, I have a limited amount of roads. This makes it easier finding the characters that are roaming around, doing nothing. I'm not happy with this workaround, but it'll have to do for now.
This discussion has been closed.