CLOSURE ANNOUNCEMENT: The TSTO forums will be closed on December 13th, 2023. Read more about the future of the forums
here.
New to the forum...just saying Hi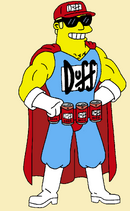 I've been lurking around this board for about a day or two. Decided to finally sign up and join the discussion. Didn't see an introduction thread so I thought I'd just make a short intro thread. I'm a daily player currently at level 24. Recently deleted about half of my friends because they were house farming and didn't have any Christmas decor up. Looking for some active players. Hope to add/meet some cool peeps here. Looking forward to reading more on here.

I'm trying my best to model my Springfield after the one from the show(even though it changes frequently). Any feedback on my town would be much appreciated. I'm basing it loosely off this map with some modifications/improvising:

http://www.instructables.com/files/orig/F8Y/27V2/FK3OCY3O/F8Y27V2FK3OCY3O.gif

Add me if you'd like: TheUman_85

8)
Hi diddly-ho, neighborooni!
This discussion has been closed.