Dr Hibbert: Republican meeting in the white house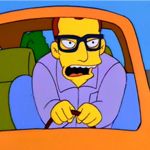 I think it is more about the Simpsons that "go there". There have been plenty of political satire episodes throughout the years. Many of them are quite hilarious, and note the writers have poked fun at both the donkeys and elephants.
This discussion has been closed.