In-game references...to the game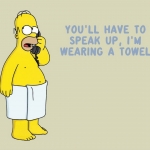 So does this bother anyone else? I'm usually not bothered by such trivial things, but the constant reference by characters that they're in a mobile game or taking shots at the community has gotten really old for me. We just got another at the beginning of this Wild West event that there will be gold in Old Springfield due to video game logic. It's just like...seriously? This is the best EA has when it comes to humor? I've dropped out from playing a handful of times in the last 16 months and while this isn't the only reason or the biggest, it is on the list. I just wish we could get some better writing for these events.
The Simpsons is a comedy show. Lisa is the smart one, and Homer is the fool. The dialogue in TSTO follows the character profiles from the show.
This discussion has been closed.