"Themes? I make up whole stories"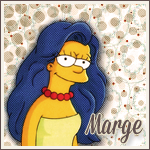 I'm glad I'm not the only one that does things like this. I send people to their jobs and school during the day and in the evenings I have them 'hit the town' by going out to dinner and the movies or to the bar. I also order things appropriately, like Barney can't sober up if he hasn't been drinking right before. I'm not sure if this is creative or if it's just my CDO (obsessive compulsive disorder in proper, alphabetical order)
This discussion has been closed.