National Championship Game - American Football Style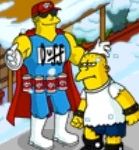 It would be nice if neither would win. I don't want Notre Dame to get all that money and I don't want Alabama to win its 3 NC in four years. Nebraska is the only team to do that in the modern era, and since we "kinda" suck, it would be nice to still have that. So go Notre Dame??? Damn that hurt just typing it.
This discussion has been closed.