Edna Krabappel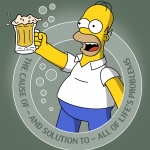 or should I say Edna Crapapple. Seriously, why did they bring her in?

She has no voice and her jobs are all inside, except for the 10 minute Smoke reak and the 24 hour Go On Strike. How about a job called Find a Husband. Make it a four hour job where she follows around any of the male characters walking around Springfield.
If They gave her that task they would probably just have her GO ON DATES WITH POTENTIAL HUSBANDS and it would be at the guilded truffle.
This discussion has been closed.