BRING BACK FRUIT BATMAN!!!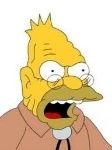 I can understand where you're coming from. But like the old saying goes..."you snooze you lose"

For what it's worth, you're not missing out on much. He has a total of 5 quests and only 2 of this tasks are outside. The others take place in the Power Plant & his 24hr "soothes his bruises" takes place in the Burns Manor
This discussion has been closed.